Santa's Job
A merry white christmas and joy to all
Santa and his reindeer' are on their way
Elve's work hard before the snow falls
Then santa leaves on his big red sleigh!

With red slacks and black boots on his feet
Santa wears a red coat made of soft silk
Dropping of presents...don't peek.!!
Taking pit stops for cookies and milk!

The reindeer fly over houses with white roofs
And land on each one with a awful clatter
Once given the call they stamp their hooves
And fly of with no fall or splatter!

When the day comes there's food and toys
Joy and carols sung and tummy's are fed
All presents given to girls and boys
While all day long santa sleeps in his bed!

(poem written by KYLIE. L.)
Like to send some cards to your online
friends..click the logo's below!!


Amusing animated and musical xmas cards.

Awesome Holiday Post Cards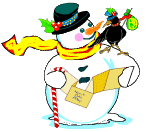 Christmas Towne
Like to leave me a Xmas cheer, click the snowglobe to
enter my Guestbook..!!


Visit my Homepage
Click on the Fireplace..!!

Xmas wishes to all onlining cyber peeps
and a
Happy New Year..!!


Visit my other two Xmas pages


Page created by
KIMBYS
30th november, 1999